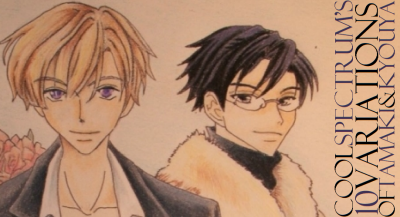 10 Variations of Tamaki & Kyouya
Anime: Ouran High School Host Club
Artist:
cool_spectrum
Icons: 10/10 (plus extras)
01
Unresized
02
Rotated
03
Desaturated
04
Mirrored
05
Doubled
06
Whole Image
07
Color Alteration
08
Textures
09
No Adjustments
10
Non-Square


The goal of this claim was to use different ways of giving the image a better color. The header banner has the original image, which as you can see, isn't the nicest of scans. All of my 10 Variations have taken that image and used different techniques to brighten or enhance the colors.


RULES
If you take any of these icons, please credit
cool_spectrum
Comments are appreciated but not required
Don't use my icons as bases
Don't hotlink
Enjoy!


The rules for my 10 Variations were taken from
10variations
The table I used was altered from the ones given at
iconfiend100