Ten people have signed up for our Bishounen Icon Battle! We've got a bunch of pretty boys to work with, so let's not waste any more time!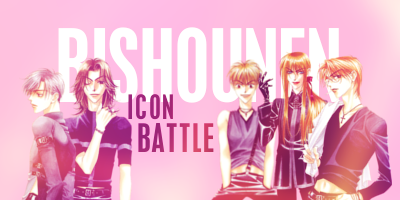 HOW IT WORKS
>> You get to make one icon for every image in this post!
>> I'll send reminders out every once in awhile via PM
>> Icons will be due by end-of-day Novemer 6.
>> There will be a huge reveal post with all of the icons, and I'll promo everybody's graphics journal.
IMAGES
click for fullsized. hover for more info.
MANGA REFERENCES
Akatsuki no Yona >> (
link
)
KEEP IN MIND
>> Icons should be kept private until the reveal post goes up
>> Please submit your icons in order of how they appear on the table above (it will make my life easier later)
>> Even if you cannot complete the entire set, please feel free to submit any icons you've made for this challenge.
>> Feel free to submit alternates/rejects. I'll share them along with the icons that did make the cut.
>> Let me know if you need an extention at any point.
>>
EDIT:
Deadline has been extended to
end-of-day Monday, November 16
(
COUNTDOWN
).
PARTICIPANTS
(>> indicates their icons have been submitted)
(// indicates they have dropped out of the battle)
>>
adriftingsea
bobness1
>>
cool_spectrum
>>
crusading_soul
>>
gallaghers
>>
laxirya
>>
rashiea
sheliana
>>
sherr_chan
>>
vai_rin
Comments
are screened
so that the reveal is more exciting. If anybody wants me to put up a chatting/sharing post let me know and I can do that.