Round 02 of
otp20in20 was even more epic then the first round! It's been a huge success, so if you want to get a slot at the next sign ups, you'll want to join the community now. Sadly the sign ups for Round 03 are closed, but if you want to see some amazing couples icons for Valentines Day, check it out!

For Round 02, I recieved a lovely participation banner! I also recieved Mod's Choice in one category, so I'm extremly happy!





Izark/Noriko +
cool_spectrum♥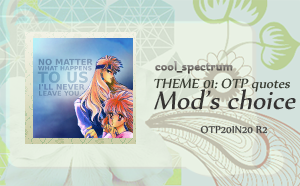 Now onto Round 03! Watch out for some Sayoran/Sakura icons in the near future!