Yay, lots of posts this week for me~ And more to come soon I think...
Round 41 at
anime20in20
was extra fun for me because I got to make icons for the most beautiful movie that isn't from Studio Ghibli... Hotarubi no Mori e. I think anybody who's unfamiliar with this should go find it now and watch it. I'll be here for you when you're done.
Anyway, Round 41 had an amazing turnout, and I'm pretty shocked I won anything since all the icons for each theme were so inspired. GO TO
anime20in20
NOW AND SEE.
And now for the shiny banners!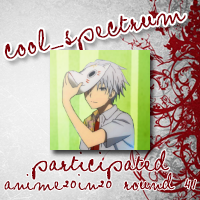 Thank you to
just_miya
for providing the participation banners this round!
I think the square-sized ones are adorable :3
Many thanks to
mmrobitussin
for these beauties!
And I'm insane, but look what I went and sigined up for...
in addition to these
...
animan
"
SIGN-UPS
/
AFFILIATES
"